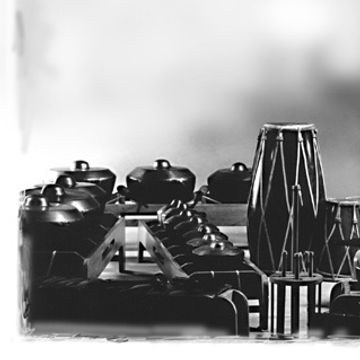 Evergreen Club Contemporary Gamelan is an ensemble of eight highly skilled Canadian musicians who perform and record using an assortment of bronze and wooden instruments from Indonesia. Collectively these instruments are known as a gamelan – a traditional instrument ensemble that plays an important role in the Indonesian culture.

Formed in 1983 and based in Toronto, Evergreen Club is a unique performing ensemble dedicated to the development and expansion of its repertoire through the commissioning of new works from Canadian and international composers, and to new interpretations of traditional and contemporary Indonesian pieces. 

The contemporary works written for ECCG highlight both gamelan and gamelan-plus, where the group is extended: guest soloists and ensembles, dancers, or auxiliary media (audio, film, video). The resulting repertoire reflects an intermingling of cultural sensibilities set within a global perspective.

Evergreen Club's numerous concert appearances have delighted audiences within Canada, the US, Western Europe, Japan and Indonesia. Recently, a part from their regular season presentations of new works, collaborations, and workshops, ECG was featured at the Arab World Festival of Montréal with Ensemble SMCQ, and the international Festival Gamelan München 2018, in Munich, Germany.   

Evergreen Club has collaborated with film-composer Mychael Danna on three of his soundtracks, including his Oscar winning soundtrack, Life of Pi. They were also the centrepiece of John Wyre's Heartbeat Orchestra that toured internationally.  

In performance, and on recordings (ten CD), Evergreen Club has presented world premieres by leading composers Katia Makdissi-Warren, Ana Sokolovic, Linda C. Smith, Linda Bouchard, Walter Boudreau, Jon Siddall, John Cage, James Tenney, Gilles Tremblay, Lou Harrison, John Wyre among many others.

The Songs Project features Evergreen Club with singers performing arrangements of Indonesian and original songs. After several years of performing the Songs Project live in 2017 Evergreen Club released its studio album, Bridge.